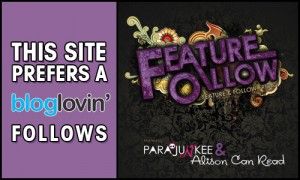 The Feature & Follow is hosted by TWO hosts,
Parajunkee of Parajunkee's View
and
Alison of Alison Can Read
. Each host will have their own Feature Blog and this way it'll allow us to show off more new blogs!

This Week's Question is:
How do you handle a book you don't like? Do you DNF or do you power through?
If I only have a slight dislike for a character but like everything else about the book I will finish it. Which is what I do for the most part.
There has been only one book that I can remember not finishing and that is
Port Mortuary by Patricia Cornwell
the main character's personality and core values seemed to be changing in the last couple books and this one just threw it over for me. I was trying to give the series a chance to see if she would come back to the way she was in the beginning, but she didn't. She wasn't the character I fell in love with anymore. So I stopped reading.
Back to school. Create a reading list for the imaginary English Lit class you'll be teaching this semester.