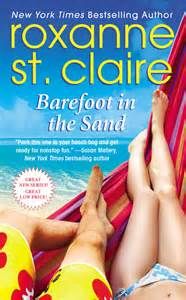 Barefoot in the Sand by Roxanne St. Claire
#1 in Barefoot Bay Series
Rating-

Book Blurb
When all you hold dear is taken away . . .
When a hurricane roars through Lacey Armstrong's home on the coast of Barefoot Bay, she decides all that remains in the rubble is opportunity. A new hotel is just what Mimosa Key needs, and Lacey and her teenage daughter are due for a fresh start. And nothing, especially not a hot, younger architect, is going to distract Lacey from finally making her dreams a reality.
A second chance is the only thing you have left....
Love has already cost Clay Walker everything. And if he's going to have any chance of picking up the pieces of his life, he needs the job as Lacey Armstrong's architect. What's not in the plans is falling for the headstrong beauty. Her vision of the future is more appealing than anything he could have ever drafted for himself. Will Clay's designs on Lacey's heart be more than she can handle, or will she trust him to build something that will last forever?
My Thoughts
I enjoyed the storyline and characters in this book. Lacey was finally able to go after her dream. Clay just wants to be able to do what he loves, build houses. And sees Lacey as a way to get that. Or it was in the beginning. They both grow as characters so much during the book. I enjoyed watching Lacey change and figure out what she truly wanted as the book went on. The developments as the story goes on were good and I found myself not wanting to put the book down so that I could figure out what happens next.
When I picked this book up I was expecting just another contemporary romance, but it was so much more than that. The story flowed so smoothly that I couldn't help but fall in love right along with Lacey. Clay may have come with a bit of baggage in the beginning, but seemed to finally get what was important in the end. Loved the project that they work on together. Looking forward to reading more about them and their friends.