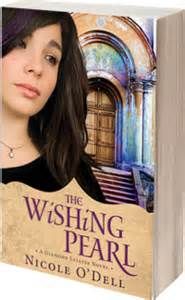 The Wishing Pearl by Nicole O'Dell
Rating-
Find this book on Goodreads
Book Blurb
Sixteen-Year-Old Olivia Mansfield dreams of a land far, far away.. A land far away from her stepfather's abuse and torment. A land far away from her mother's blind eye. A land far away from the haunting memories of her past.
But then reality sets in, and Olivia knows she must make the best of her dire situation- at least until her high school graduation. But when poor choices lead Olivia to the brink of a complete breakdown and she finds herself dealing with the unexpected death of her best friend, she comes to a crossroads.
Will Olivia find the path to ultimate hope and healing that her heart longs for? Or will the demons from her past prove too much to bear?
My Thoughts
This book does have a christian base to it.. even if it doesn't really seem like it in the beginning. I know that some people don't like reading books that have a church undertone, so I figured I would mention it. This book tackles a very tough topic, and I feel it does it very well. Olivia has been through a lot in her life, and isn't even an adult yet. She falls in with the wrong crowd but eventually gets presented with a opportunity to better herself and takes it. She realizes that not everything that has happened to her was God's doing, but that through it all God was there supporting her and waiting for her to acknowledge him. Olivia develops some really great relationships and develops feelings for a boy. The characters are all very well developed and the social issues that they all face in their various lives are well addressed.
I went into this story expecting one thing and came out with something completely different. I'm an emotional reader, and this one had my crying at parts. I understand that this type of story isn't for everyone, that some people don't like them. But I've come to love books under the "Christian Fiction" umbrella. I enjoy reading a story that an author as constructed to display the christian faith. I enjoyed the story and am very glad I picked up this book.