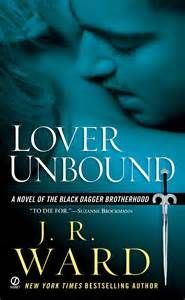 Lover Awakened by J.R. Ward
#3 in Black Dagger Brotherhood Series
Rating-
Find this book on Goodreads
Book Blurb
The third book in the series tells the story of the vampire Zsadist, a former blood slave with a violent past. When he meets Bella, Zsadist thinks her human love could be his path to salvation. Then Bella is kidnapped, and Zsadist will stop at nothing to get her back.
My Thoughts
This story is about Zsadist and of course the Brotherhood as a whole. When i first met Z he was a little scary. He didn't talk much to even the brothers, and they tended to avoid him. But as his story progressed and you learned more about him, it all came into focus why he didn't want to get close to people. Z has an instant attraction/pull towards Bella, and she to him. When Bella is kidnapped Z flips out and doesn't give up.
I have come to love Z. He definitely grows on you. He has been through so much and has so much baggage that he doesn't think there is anyway that Bella would really want him and think that he is handsome. I like Z and Bella together, and there story is just so awesome.