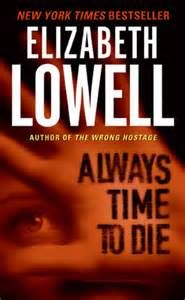 Always Time to Die by Elizabeth Lowell
#1 in St. Kilda Consulting Series
Rating-
Book Blurb
Former U.S. Senator Quintrell is dead. His son, New Mexico's governor, is preparing his run for the highest political office in the land. And dark family secrets are about to explode with the devastating force of a Southwestern earthquake. An eccentric Quintrell aunt has invited genealogist Carolina "Carly" May to their Taos compound to compile a record of the illustrious family. But digging into the past is raising troubling questions about a would-be president's private life . . . and the grisly street crime that left his drug-addicted sister dead. As a dark world of twisted passions and depravity slowly opens up before Carly, there is no one whom she dares trust -- perhaps least of all Dan Duran, a dangerous, haunted enigma who's tied to the Quintrells' history. But she will need an ally to survive the terrible mysteries a father carried to the grave -- because following the bloodlines of the powerful can be a bloody business. And some dead secrets can kill.
My Thoughts
Carolina (Carly) May is a genealogist that Winifred Castillo y Simmons has hired to write a book about her family history. While looking for past articles in the local newspaper she runs into Daniel Duran. When Carly says she wants to look at the old microfilms she is told that someone most always be down there with her, Dan is the only person around to go down there with her. As a result he gets pulled into her project. After she's been there for a few days weird things start happening around her and to her. The more she digs into the past, the more the family and other people the secrets could effect want her gone.
I have always enjoyed Elizabeth Lowell stories, and this was no different. I liked the characters and the mystery was good. I found myself wanting to read more because I wanted to know what the secret was that they were trying so hard to keep quiet. I'll definitely be continuing the series.