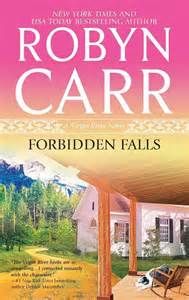 Forbidden Falls by Robyn Carr
#9 in Virgin River Series
Rating-
Find this book on Goodreads
Book Blurb
Virgin River is abuzz with the news that a stranger bought the town's abandoned church on eBay. The buyer, a young widowed reverend, is a little like the building itself: in need of some loving care. Noah Kincaid arrives ready to roll up his sleeves and revitalize his new purchase, but he's going to need some help. An ad in the local paper brings an improbable candidate his way. "Pastor's assistant" is not a phrase that springs to mind when Noah meets brassy, beautiful Ellie Baldwin. With her colorful clothes and even more colorful past, Ellie needs a respectable job so she can regain custody of her children. Noah can't help but admire her spunk and determination, and she may just be the breath of fresh air he needs. This unlikely duo may come from two different worlds, but they have more in common than anyone would have expected. And in Virgin River lasting happiness is never out of the question.
My Thoughts
The story is about Reverend Noah Kincaid. He buys the old town church and renovates it. He hires Ellie Baldwin to be his assistant. They work together to fix the church while learning more about each other along the way.
It was a sweet story and i enjoyed the progression of their relationship. I also really like that you still get to read about the lives of the past characters. When it would be really easy to push them aside and all but ignore them. I've always wondered how it would be like to live in a small town where everyone knows everyone and these stories seem to be a pretty good example. Everyone cares what happens to even the newest members of the town.