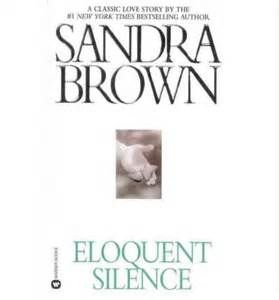 Eloquent Silence by Sandra Brown
Rating-
Book Blurb
Lauri is a dedicated young teacher for the deaf. Her past conceals a wound still unhealed, her present is a facade, and she uses her career to hide her loneliness. Drake, daytime TV's most popular star, has two secrets -- the daughter he believes may never have a normal life and the dead wife he can't forget. Jennifer is the beautiful hearing-impaired child who may become a pawn between the man and the woman she needs most. Now, in a chic New Mexico arts community, the three are given a chance to be a family...but first each must find a voice to express the deepest fears and greatest needs of the heart.
My Thoughts
In the book Drake is an actor on a Soap Opera and his daughter (Jennifer) is deaf and living in a school. Drake wants to move Jennifer to New Mexico and asks the school who they would recommend as a live in tutor. The Director of the school recommends Lauri. When the Director asked Lauri to meet Drake and sent her to where he worked she wasn't told what his job was.. haha. So Lauri was shocked and of course already had an opinion of Drake before meeting him (Typical huh). Drake's character to me seemed like it had the popularity equivalent to The Greys Anatomy guys. Anyways, I loved that Lauri wasn't afraid to speak her mind to Drake even though he was a popular TV star. When Lauri met him he didn't know much sign language and as a result couldn't communicate with Jennifer very much.
In the beginning I really didn't like Drake, but came to love him after a while. He was very willing to learn ASL (American Sign Language) to be able to talk to Jennifer and he really loved his daughter. Jennifer was just so adorable, I loved her from the beginning.
It was cool to listen to this story. The narrator was great. I enjoyed the storyline and the characters.