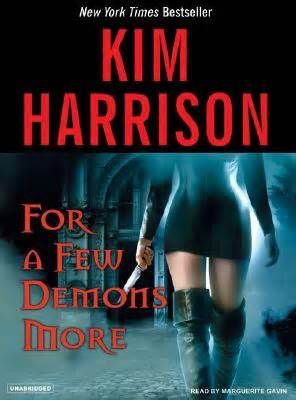 For a Few Demons More by Kim Harrison
#5 in Hollows Series
Rating-
Book Blurb
Despite dating one vampire and living with another, Rachel Morgan has always managed to stay just ahead of trouble . . . until now.
A fiendish serial killer stalks the Hollows, claiming victims across society, and the resulting terror ignites a vicious Inderland gang war. And while the ancient artifact Rachel is hiding may be the key to stopping the murderer, revealing it could also create a battle to the death among the numerous supernatural races that live in and around Cincinnati.
For every action has its price, and when the vampire master Piscary is set free and the demonic Algaliarept dares to walk openly under the sun, even Rachel Morgan can't hide forever.
My Thoughts
It normally isn't very hard for me to put my thoughts about a book into words... But I'm finding it is with this one. At the end of
A Fistful of Charms
I was actually looking forward to reading this book and seeing a change in Rachel and Ivy's relationship because I figured it had to change after what they went through together. They are the most stubborn characters I have ever met. My emotions while reading this book went from one extreme to the other. I seriously didn't like Rachel for a good bit of this book.. and was annoyed with Ivy. A lot of the characters are being shown in a new light in this book. It's nice to see the characters grow and change with the story lines. The story twists were interesting and made it so I didn't want to put it down. The ending was sad for me, didn't like that it ended on that note.. but it served its purpose, I want to continue to see what happens. I enjoyed this book more than any other in the series. I'm happy I have continued this series.