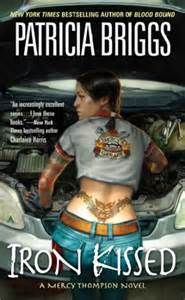 Iron Kissed by Patricia Briggs
#3 in Mercy Thompson Series
Rating-

Find this book on Goodreads
Book Blurb
When her former boss and mentor is arrested for murder and left to rot behind bars by his own kind, it's up to shapeshifting car mechanic Mercy Thompson to clear his name, whether he wants her to or not. And she'll have to choose between the two werewolves in her life-whether she wants to or not.
My Thoughts
Mercy finds herself in even more trouble than previous books.. She is asked to help the Fae community with her keen sense of smell. They've asked her to help them solved murders that are happening on the reservation. Her mentor and friend Zee is accused of murder. Nobody else will help him so it's up to Mercy, and no matter how much Zee doesn't want her to she's gonna do it anyways. As if this isn't enough for Mercy, she must choose between Samuel and Adam.
I've found myself so wrapped up in these characters. I love them all. This was such a good story and it had me going thru all kinds of emotions, I even cried at one part.. This one just like the previous books is full of action and just enough left unanswered that you must pick up the next book and see how it goes.