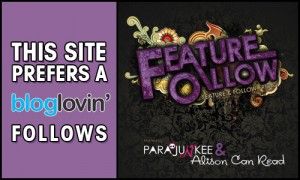 The Feature & Follow is hosted by TWO hosts,
Parajunkee of Parajunkee's View
and
Alison of Alison Can Read
. Each host will have their own Feature Blog and this way it'll allow us to show off more new blogs!

This Week's Question is:
Share something you've learned about book blogging or just blogging in general in the last month.
I haven't been book blogging for long, and am still learning really. But since I'm just now starting out I'm trying to have a post every day. Hopefully eventually I'll be able to post more than one thing a day. Right now I just try not to go without posting something. I've also learned to do the posts ahead of time and just have them scheduled to post on a given day. It makes me less stressed and I can enjoy my reading more.
Book Selfie! Take a pic with your current read.