Teaser Tuesdays is a weekly bookish meme, hosted by MizB of
Should Be Reading
. Anyone can play along! Just do the following:
• Grab your current read
• Open to a random page
• Share two (2) "teaser" sentences from somewhere on that page
• BE CAREFUL NOT TO INCLUDE SPOILERS! (make sure that what you share doesn't give too much away! You don't want to ruin the book for others!)
• Share the title & author, too, so that other TT participants can add the book to their TBR Lists if they like your teasers!
My Teaser: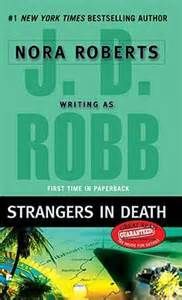 Strangers in Death by J.D. Robb
"'Ah, come on, Dallas' The very idea brightened Peabody's voice. 'Go somewhere with girlfriends, hang, drink lots of wine or fussy drinks, get facials and spa treatments, or lie on the beach, and talk about stuff half the night.'
Eve glanced over.'I'd rather be dragged naked over jagged glass.'
'Well, I think we should do it some time. You, me, Mavis, maybe Nadine and Louise. And Trina--she could do our hair and--'
'If Trina comes on this mythical nightmare I get to drag
her
naked over jagged glass. That's my bottom line.'" Page 17-18/285 (ebook)
It is a little more than two sentences, but I couldn't help it.