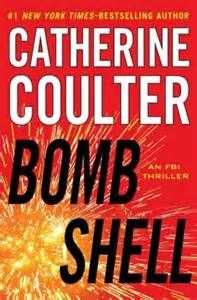 Bombshell by Catherine Coulter
#17 in the FBI Thriller Series
Rating-

Book Blurb
FBI Special Agent Griffin Hammersmith, last seen in Backfire, has been recruited by Dillon Savich to join his unit in Washington, D.C. Savich sees something special in Hammersmith, an almost preternatural instinct for tracking criminals. While on his way to D.C., Hammersmith plans to visit his sister, Delsey, a student at Stanislaus School of Music in Maestro, Virginia. Before he arrives, he gets a phone call that Delsey was found naked, unconscious, and covered with blood after a wild party. The blood isn't hers—so who does it belong to? Meanwhile, back in D.C., Savich and Sherlock have their hands full when the grandson of former chairman of the Federal Reserve Bank is found murdered, every bone in his body broken, and frozen at the foot of the Lincoln Memorial. Was Savich right—is Griffin gifted with a unique ability to "see" how criminals think? And will he figure out who was behind the attempt on Delsey's life—before it's too late?
My Thoughts
I've always found it interesting how these books can follow two stories and still be so easily read. It's not confusing or bogged down. Savich and Sherlock are dealing with the death of a twenty year old placed at the Lincoln Memorial. griffin is teamed up with Sheriff Dix Noble and Agent Ruth Noble to figure out who was in Delsey's house. I have always liked Savich and Sherlock, their relationship is very believable and normal (well considering they are FBI Agents.) Griffin is a newer character to the series, but I'm already starting to like him. All of Coulter's characters are well developed and enjoyable to read about.
The two cases that you go back and forth between in this book are interesting. I enjoyed the flipping between because you never really got bored with one storyline. As I was reading I had guessed a few of the smaller details in the cases, but both cases left me wondering until the end. But then I don't really try to figure them out before your supposed to know, cause then what is the point of finishing the book. This is a nice Suspense Thriller, it doesn't hurt that it has all kinds of nice looking FBI Agents in it.