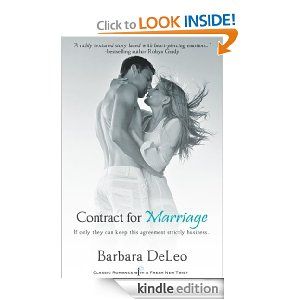 Contract for Marriage- Barbara DeLeo
Rating-

Find this book on Goodreads
Book Blurb
Property tycoon Christo Mantazis wants the one thing his riches can't buy--the villa where his mother has lived and worked as housekeeper for forty years. That it's the same house he was banished from after being caught making love to the owner's irresistible daughter stirs up old memories, and now he wants her more than ever. Magazine editor Ruby Fleming's not about to give up her home to Christo, the man who broke her heart--until she discovers her mother left half of the estate to him, and she realizes she's trapped. When Christo offers a marriage of convenience, Ruby knows it's the only way for them to get what they want. Ruby needs a link to her past, and Christo needs his mother to retain her home. But it's another need--to have Christo again--that Ruby must resist at all costs.
My Thoughts
I've never read this author before, and received this book in a giveaway. The story sounded interesting. The book immediately jumps into what seems like the middle of a storyline. I felt like I was missing something. Right from the start the two main characters Christo and Ruby have misconceptions of how each other felt when they were together years ago. This story line always seems to bug me.. why don't they just ask each other instead of assuming they know exactly how the other feels. It would save everyone a lot of heart ache. But it worked surprisingly well in this story. I really enjoyed Ruby and Christo. Ruby wanted a family and for her child to have a father, but wasn't willing to sacrifice her happiness for what looked to be perfect on the outside. Christo was too afraid to feel like he did in the past so he was trying to control everything. From the wedding to the doctor. I think it came down to the simple fact that if he didn't know how to deal with something emotionally he tried to control it physically. I would have liked for the story to be a little longer so that the characters could have been developed a little more. Christo's mother would have been a nice one to know more about. The ending seemed a little rushed to me. As for the epilogue it was almost like an after thought.. completely removed from the original story, I don't think it contributed much.
The story overall was a nice light romance, easy read. It kept my interest enough for me to want to keep reading. I would be interested in reading more from this author.