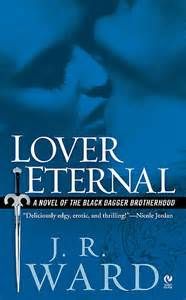 Lover Eternal by J.R. Ward
#2 in Black Dagger Brotherhood Series
Rating-
Find this book on Goodreads
Book Blurb
Mary Luce is dissatisfied with her life and her job. But when she is unwittingly thrust into the vampire dominion, everything changes. Falling under the protection of the Brotherhood's strongest member, Rhage, she soon finds herself drawn to his animalistic urges.
My Thoughts
This is the second book in the series. I would definitely recommend that they be read in order, they have a progression that goes through the books that if read out of order wouldn't make very much sense. This book is about Rhage and the beast that lives within him. Rhage comes off as a player in these first two books. Which i was turned off by to begin with. After reading his story and experiencing everything that he goes through, i found him growing on me. His character and all the others in this book are very well developed and they just pull you in.
Very well written, I was even crying at parts. Would definitely recommend this series to others.