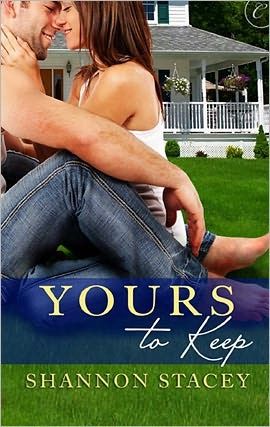 Yours to Keep by Shannon Stacey
#3 in Kowalski Family Series
Rating-

Find this book on Goodreads
Book Blurb
Emma Shaw needs a husband, and fast! Not because she's interested in romance--after all, she's too busy with her landscaping company--but because Grandma Shaw is coming to town, and she will have nonstop questions about Emma's (stagnant) love life.
Sean Kowalski no sooner leaves the army than he's recruited by Emma to be her fake fiance. Sean doesn't like the deception, but he can't help his attraction to the feisty brunette. A little pretend kissing won't hurt anyone--especially when there's no chance he'll fall for a woman with deep roots in a town he's not planning to call home. But when fake, innocent kisses lead to very real, explosive sparks, Emma and Sean discover that their big ruse might just lead to happily-ever-after....
My Thoughts
This is a Contemporary Romance Novel. The genre always follows a template- Girl and boy meet, girl and boy like each other, they fight, stay apart for a while then realize they can't live without each other. So there are no real surprises on how the book is going to play out. There is however a really well written family dynamic that makes this book so very worth reading. Sean Kowalski has just left the army and gets recruited by Emma Shaw to play her Fiancee. Emma Shaw owns a landscaping business and just wants her Grandma to not worry about her. I really enjoy reading the Kowalski Family Series because all of the characters seem like they could be right out of your own family. I like that not everything is perfect, they make mistakes. Emma's Grandma is coming to town, normally this wouldn't be a huge deal for anyone, but Emma told her Grandma she was in a serious relationship so that Grandma wouldn't worry. As a result, Emma needs Sean to play along while Grandma is in town. It makes for some very interesting scenes. I like Grandma Shaw the most. Normally one of the main characters are my favorites but she stood out to me. She was so full of love and life. She was one smart cookie. :)
I liked the scenes with Emma and Sean spending time with his family. Watching the progression from awkward and pretending to comfortable and real. Their relationship was always interesting. Yours to Keep was an easy read. The writing was enjoyable for me. There were no parts that stood out like they didn't belong or fit. I got a little emotional towards the end of the book, but I'm a very emotional person so it's not very hard to do.
This book is part of a series and I plan on continuing because I truly love the Kowalski Family. I would recommend this series to anyone who enjoys Contemporary Romance centered around a family.