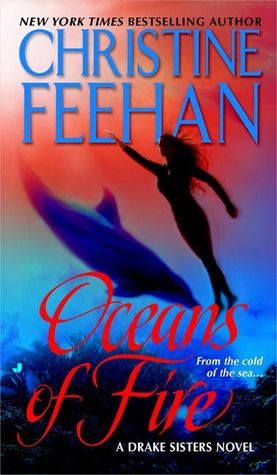 Oceans of Fire by Christine Feehan
#3 in the Drake Sisters Series
Rating-
Find this book on Goodreads
Book Blurb
Seven elementally gifted sisters, and their prophecy of love…
As the third daughter in a magical bloodline, Abigail Drake was born with a mystical affinity for water, and possessed a particularly strong bond with dolphins. She spent her entire life studying them, learning from them, and swimming among them in the waters off her hometown of Sea Haven …
Until the day Abby witnessed a cold-blooded murder on shore, and found herself fleeing for her life — right into the arms of Aleksandr Volstov. He's an Interpol agent on the trail of stolen Russian antiquities, a relentless man who gets what he goes after — and the man who broke Abby's heart. But he isn't going to let the only woman he ever loved be placed in harm's way — or slip away from his embrace…
My Thoughts
This is a Paranormal Romance Novel and compared to others I've read in this genre it is a pretty typical storyline. But it is a solid series with well written characters and good stories. Abigail (Abby) Drake is one of seven sisters, all of whom have elemental magic. Alexsandr (Sasha) Volstov is a Interpol Agent and also an old flame of Abby's. I like that the other sisters still play a good part in other books that they aren't a main character in. I enjoy being able to read more about characters from other books. There was nothing about the characters that stood out to make them unbelievable. Abby and Sasha have a not so good past. So in the beginning there is a reluctance to admit to feels. Which made living with or being around the two uncomfortable for everyone else. There really wasn't just one character that was a favorite for me. I find foreign accents on guys to be very hot, so of course I loved Sasha. Abby while kinda annoying in the beginning cause of the constant dwelling on the past, redeems herself when she finally admits to feelings.
The scene I remember the most is when Abby takes Sasha to meet the dolphins. For me, even if at the time she wasn't admitting to herself that she wanted to be with him, it showed she was willing to give Sasha a chance by letting him into her world. She didn't take just anyone to see the dolphins. I didn't particularly care for the murder Abby witnessed in the beginning, but I understand that it is a necessary part of the story. There was nothing that stopped the flow. I really enjoyed the writing style.
Yes, I will continue this series and if you enjoy books with strong women dealing with magic I would recommend it.