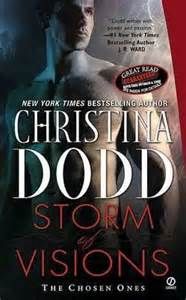 Storm of Visions by Christina Dodd
#1 in Chosen One Series
Rating-

Find this book on Goodreads
Book Blurb
When the world was young, twins were born. One brought light to a dark world; the other, darkness and danger. They gathered others around them, men and women destined to use their powerful gifts for good or evil. Today, their descendants walk the earth as the Chosen, and the ultimate battle is about to begin.
Jacqueline Vargha has always run from her gift. Until Caleb D'Angelo forces his way into her life and insists she take her place as one of the Chosen. She flees, he pursues, but she can no longer deny her visions, or the dangerous man who is her downfall...and her destiny.
My Thoughts
This is a Paranormal Romance Novel. It has a fresh approach to the genre basics. I really enjoyed the world building. The main characters are Jacqueline Vargha and Caleb D'Angelo. Jacqueline's adoptive mom is Zusane. Jacqueline is a Seer working at a vineyard at the opening of the book. Caleb is Zusane's bodyguard and has been working for Zusane since he was little.
In the beginning Jacqueline seemed to be a walking contradiction which was a little annoying. that being said, it was explained really well later in the book so I didn't have a problem with it after finishing. Jacqueline and Caleb have known each other for all there lives (just about). Caleb grew up working for her mom, so she was pretty much off limits. You can imagine how well that went. As a result of their past relationship Jacqueline doesn't really want much to do with Caleb when he shows up on her doorstep. It's almost predictable that my favorite character was Caleb, but I loved him just about from the start. He has the Italian bodyguard thing going for him. He never hid his feelings for Jacqueline and only left the first time because her mom (his boss) asked him to let her finish college. He was willing to do anything for her.
It was interesting to read about Jacqueline getting her visions. They were so real and well written. I can't think of any scenes that I didn't like. The writing was strong and smooth. Like I said before I liked the world building. The character dialog was believable. There were a few parts that I reread to make sure I understood it completely but that wasn't because I had to, it was because I wanted to. I was engulfed in the story completely and found some of the dialog made me laugh.
Example:
"Then I want to talk about what happened two years ago between us."
No way, mister.
She rolled to the other side of the mattress and swung her feet off the bed. "You go ahead. I'll just go into the bathroom and shut the door."
I plan to continue the series. I don't normally recommend a series until I've read more than one so that I can see how consistent the series is. So we'll see how the next one goes.