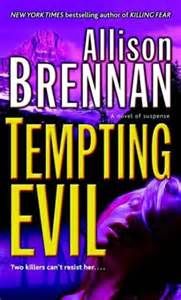 Tempting Evil by Allison Brennan
#2 in Prison Break Trilogy
Rating-

Find this book on Goodreads
Book Blurb
Joanna Sutton can cope with the fierce winter storm bearing down on the small rural community of Centennial Valley, Montana; the popular romance writer has survived much worse in life. Haunted by the loss of her husband and child, Jo has found refuge at her family's secluded lodge, but her haven soon becomes a hell. During the ferocious blizzard, a local Boy Scout troop is stranded in the wilderness, compelling Jo to spearhead a desperate rescue mission, aided by a newly arrived stranger with an unknown agenda.
Meanwhile, Sheriff Tyler McBride hears that three escaped convicts are fast approaching Big Sky Country. Hoping to warn Jo, he faxes over the men's mug shots. But they never reach their intended recipient. Then Tyler makes a shocking discovery: Two people are dead, and a killer is among the group, along with the woman Tyler loves, searching for his lost son.
More than one innocent life is at stake. For the sake of those Jo cares about most, and for her own survival, she'll need all the cunning, courage, and passion she can muster to survive the mounting terror.
My Thoughts
Tempting Evil is a romantic suspense novel and certainly lived up to the genre. Yes it is similar to others I've read, but the characters are so well written that I just love reading these books. Joanna Sutton and Tyler McBride are the main characters. Aaron Doherty and Hans Vigo are secondary characters. For me the characters couldn't get any more real. Aaron is convinced that Joanna loves him because she has written romance novels that he feels were only for him. When in reality she doesn't know he even exists. He will do anything to get her to come with him. I really liked Tyler, I'm a sucker for strong yet understanding men. Tyler stops at nothing to save Joanna, but at the same time is willing to wait until she is ready for their relationship to move to the next level. I liked Joanna, she was willing to do anything for the people she cared about.
For me Romance Novels, no matter what specific kind they are, all have an underlying point that love conquers all. If your love is true and strong you can handle anything. I love a happy ending. :) It was really hard for me to spend so much time in Aaron's head. Experiencing his convoluted sense of what is actually going on. I think that could have been one of the reasons why it took me so long to read. Allison Brennan's writing style is really clear and always enjoyable to read. I wasn't really emotional during this book. Sometimes a little frustration crept up in regards to Aaron, but he is written as a character your not supposed to like. This books is part of the
Prison Break Series
and I will be continuing on to the next book. I would recommend this to anyone that enjoys "Cop Thrillers".