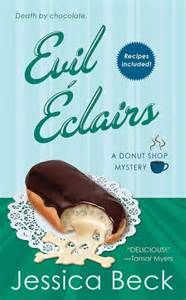 Evil Eclairs by Jessica Beck
#4 in Donut Shop Mystery Series
Rating-
Find this book on Goodreads
Book Blurb
Donut shop owner Suzanne Hart admits her sweet treats don't exactly qualify as health food. But does she really deserve to be labeled a "killer" by local radio jockey Lester Moorefield? The annoying host is urging citizens to boycott Suzanne's "deadly dough" factory—until he's found dead himself, stuffed with one of Suzanne's eclairs… Everyone in April Springs knows about the feud between Lester and Suzanne, which makes her the number-one suspect. She tries to use the donut defense— donuts don't kill people, people kill people —but that cream-filled eclair at the scene of the crime has the whole town filled with suspicion. If Suzanne can't figure out who killed the radio star, she'll soon be filling a prison cell instead of a pastry…
My Thoughts
Evil Eclairs is a Mystery/Suspense novel. It is a little different from others in the genre because it tends to revolve around the donuts and the donut shop. The Donut Shop Mystery Series and Evil Eclairs focus' on Suzanne Hart, Jake Bishop and the murder of Lester Moorefield. Suzanne is owner of Donut Hearts. Jake Bishop is her boyfriend and also an investigator with the State Police. Whenever Suzanne is pulled into a murder and starts investigating it on her own she enlists the help of George Morris and Grace Gauge. All of the characters are very believable and have flaws or shortcomings just like us. They live in a small town so everyone knows everyone. This makes for very interesting situations when it comes to Suzanne trying to question someone about the murder that has happened.
Suzanne is my favorite character. She loves her shop that she has started. She is confident in herself and her relationships with others. When things happen and her shop is questioned she isn't afraid of standing up and even getting into a few confrontations because of it. She loves her family and friend unconditionally. I enjoy reading about the mornings when Suzanne makes the donuts and opens the shop. It's fun to read about her interactions with Emma her assistant and the customers that come in. The parts where Suzanne and Grace are going around making up stories so that they can question people about the current murder are always interesting to read. Suzanne and Grace work very well together. I don't really care for the scenes when a character that you've come to love is hurt or are being put in a position where they may get hurt. But at the same time I understand that it is a part of the story line and that there is a reason for it.
Jessica Beck's writing style has a nice easy flow to it. It makes it very easy to read and nothing felt rushed. Evil Eclairs is a nice easy read, easy to understand so no rereading was needed for me. All plot twists or points seemed to fit and worked towards the final reveal. I was pulled so far into the story line that at parts I was worried about the characters. At other times I found myself laughing at some of the things they did and said.
I will definitely be continuing with the Donut Shop Mystery Series. Also I would recommend this book to all who enjoy reading murder mysteries mixed with light humor and romance.