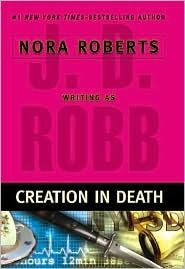 Creation in Death by J.D. Robb
#30 in In Death Series
Rating-

Find this book on Goodreads
Book Blurb
When the body of a young brunette is found in East River Park, artfully positioned and marked by signs of prolonged and painful torture, Lieutenant Eve Dallas is catapulted back to a case nine years earlier. The city had been on edge due to a killing spree that took the lives of four women in fifteen days; all courtesy of the man the media tagged as "The Groom"--because he put silver rings on his victims' fingers.
This time, it becomes chillingly clear that the killer has made his attack personal: The young woman was employed by Eve's billionaire husband, Roarke, washed in products from a store Roarke owns, and laid out on a sheet Roarke's company manufactures. Chances are The Groom is working up to the biggest challenge of his illustrious career--abducting a woman who will test his skills and who promises to give him days and days of pleasure before she dies: Eve.
My Thoughts
This is a Romantic Suspense novel, it may be considered Mystery/Thriller also. Eve Dallas is a Lieutenant with the NYPSD. Roarke is her husband and a business man. I always look forward to reading these stories because the characters have turned in to good friends that you can't wait to go back and visit. They are well developed and very real. The relationship between Eve and Roarke has a definite impact on the story because the killer has come back around to where it all began and has a certain affinity for Roarke this time around. I really enjoyed Eve in Creation in Death, not that I don't in other books of the series. This case took her back to when she first started on patrol and made her deal with the fact that this one got away before. She also has to deal with Feeney who was #1 on the case back then.
I've never read anything quite like this. It's a "Cop Thriller" with a futuristic setting. It is different enough from others in the genre that I was pulled in and wanted to see what it was about. One of my favorite parts of the story was when Eve confronted Feeney about his guilt over not closing the case years ago. It was an example of how close Eve is with her co-workers and sometimes she doesn't even realize it.
The writing is well thought out. I liked how the story flowed. Emotions were high in Creation in Death so some I reread just to grasp the full effect of the writing. Creation in Death was a page turner. I didn't like when I had to put it down for other things. I love this series and will continue for sure. I have recommended this series in the past and will continue to do so in the future.