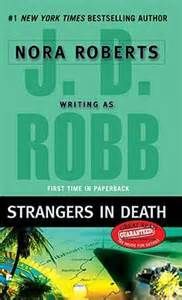 Strangers in Death by J.D. Robb
#31 in In Death Series
Rating-
Find this book on Goodreads
Book Blurb
In 2060 New York, some murders still get more attention than others, especially those in which the victim is a prominent businessman, found in his Park Avenue apartment, tied to the bed--and strangled with cords of black velvet. Fortunately, homicide cop Lieutenant Eve Dallas's billionaire husband, Roarke, happens to own the prime real estate where Thomas Anders's sporting-goods firm is headquartered, giving her some help with access. Before long, she's knocking on doors--and barging through them--to look for the answers she needs.
But some things don't add up--and everyone's alibi checks out, from the wife who was off in the tropics to the nephew who stood to inherit millions. Was this a crime of passion--or a carefully planned execution? It's up to Dallas to solve this sensational case in which those who seem to be intimates sometimes guard secrets from each other--and strangers may be connected in unexpected, and deadly, ways. . . .
My Thoughts
This is a Romantic Suspense novel, it may be considered Mystery/Thriller also(at least I think so). Eve Dallas is a Lieutenant with the NYPSD. Roarke is her husband and a business man. Eve is so tough and really doesn't seem to have a clue about relationships and friendships, but with Roarke she just lets it all go and goes by feeling. Something she could never do with anyone else. Detective Peabody is Eve's partner. Peabody is always willing to have a chat with Roarke no matter whether Eve thinks they have time for it or not. All the characters seem very real and are easy to connect with. The relationships vary from friendships to romantic. As a result everyone blends well together and play off each others strengths. My favorite character is Roarke. He is a dream guy, sure of himself but not overly so.. not to mention him being a sexy Irishmen. He loves what he does, but loves Eve more and is more than willing to help her in anyway she may need. He knows Eve so well, he picks up on things others might miss and complements her personality very well. Roarke never did like cops, Eve has shown him that there are good cops out there.. ones that will stop at nothing to figure out what has happened and who did it.
The writing wasn't choppy. It read like real conversations and smooth descriptions. There was some parts that I reread but not because I did not understand them. More for the simple fact that I enjoyed them so much. I like the banter that breaks up the murder mystery. Strangers in Death had a good flow and the story progression was nice.
My favorites scenes almost always included Eve and Roarke. They as a couple aren't too perfect, they have arguments and don't always agree which I like. But they can also be very considerate and loving towards each other. There wasn't really anything that popped out at me and caused me to not like it. I found myself laughing at some of the conversations between characters. Other than that not a really emotional book.
I enjoyed Strangers in Death. The characters are well developed and story is well written. I would recommend Strangers in Death and all other books in the
In Death Series
by J.D. Robb.