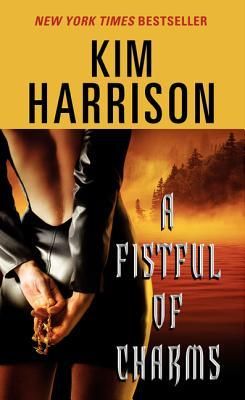 A Fistful of Charms by Kim Harrison
#4 In The Hollows Series
Rating-
Find this book on Goodreads
Book Blurb
The evil night things that prowl Cincinnati despise witch and bounty hunter Rachel Morgan. Her new reputation for the dark arts is turning human and undead heads alike with the intent to possess, bed, and kill her -- not necessarily in that order.
Now a mortal lover who abandoned Rachel has returned, haunted by his secret past. And there are those who covet what Nick possesses -- savage beasts willing to destroy the Hollows and everyone in it if necessary.
Forced to keep a low profile or eternally suffer the wrath of a vengeful demon, Rachel must nevertheless act quickly. For the pack is gathering for the first time in millennia to ravage and to rule. And suddenly more than Rachel's soul is at stake.
My Thoughts
This is an Urban Fantasy Novel and is one of my favorites in the genre. It is different enough from others that it leaves me wanting more. Rachel Morgan is a witch and bounty hunter. She is partners with Ivy Tamwood and Jenks. Kisten is a vampire and Rachel's current boyfriend, while Nick is human and Rachel's ex-boyfriend. All of these characters are very complex and sometimes almost too real. It is almost too hard to explain the relationships between the characters because they are so complex. The story seems to evolve around the relationships and how they are moving. My favorite is Jenks. I just love him. he may be small but he has a lot of heart and determination.
I enjoyed a life size Jenks in this book. The scenes when he is experiencing various human foods and such are just awesome. Nick is one of my least favorite characters in this series, the fact that he came back was kinda a bummer to me. There was something about him from the beginning that I didn't like. Rachel and Ivy's relationship is a big frustration to me, but it seemed to progress/change in the storyline of this book. Which I was happy about.
Kim Harrison is a great writer. There is nothing forgotten in this book. I enjoyed the continuation of the series. I will for sure continue in this series so that I can see what Rachel gets into next. I would for sure recommend this series, just know that it starts out a little slow.