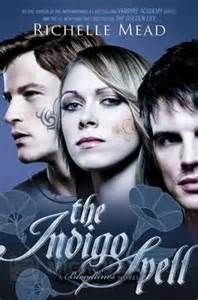 The Indigo Spell by Richelle Mead
#3 in Bloodlines Series
Rating-
Book Blurb
Sydney Sage is an Alchemist, one of a group of humans who dabble in magic and serve to bridge the worlds of humans and vampires. They protect vampire secrets—and human lives.
In the aftermath of a forbidden moment that rocked Sydney to her core, she finds herself struggling to draw the line between her Alchemist teachings and what her heart is urging her to do. Then she meets alluring, rebellious Marcus Finch--a former Alchemist who escaped against all odds, and is now on the run. Marcus wants to teach Sydney the secrets he claims the Alchemists are hiding from her. But as he pushes her to rebel against the people who raised her, Sydney finds that breaking free is harder than she thought. There is an old and mysterious magic rooted deeply within her. And as she searches for an evil magic user targeting powerful young witches, she realizes that her only hope is to embrace her magical blood--or else she might be next.
My Thoughts
I have really enjoyed this series, and was looking forward to continuing. I like the idea of being able to get to know the secondary characters of the
Vampire Academy Series
. The ongoing storyline thru the series is that Sydney Sage is working to keep Jill (Lissa's sister) under the radar because she is the only other person in her line and without Jill, Lissa cannot be queen. So Sydney was assigned to help protect her, along with Eddie (a dhampir guardian) and Angeline. Also in this book she is looking for the person behind witches that have gone into a coma. It seems like almost too much in one book, but it works well. Sydney is on a mission to find Marcus Finch who is on the run from the Alchemists. Marcus holds answers to questions that Sydney has.
The story has a well balance between the various story lines. The character interaction is very believable. I am really enjoying the was this series is progressing. Sydney is growing and making her own decisions instead of fully relying on the Alchemists to make them for her. It was full of unexpected twists, also it was good to learn more about the people she interacts with.