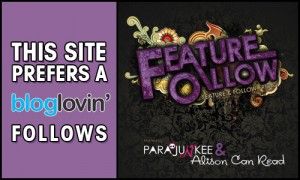 The Feature & Follow is hosted by TWO hosts,
Parajunkee of Parajunkee's View
and
Alison of Alison Can Read
. Each host will have their own Feature Blog and this way it'll allow us to show off more new blogs!
This Week's Question is:
What do you do with your books after you are done reading them?
Most of the time I've gotten my books from the library so they just get taken back.. but if they are books I own then they just get put back on the shelf cause my sisters borrow my books from me after I've read them.
How do you handle a book you don't like? Do you DNF or do you power through?