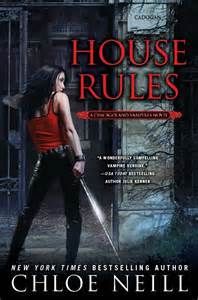 House Rules by Chloe Neill
#7 in Chicagoland Vampires Series
Rating-
Book Blurb
In a city full of vampires, trouble never sleeps.
At the tender age of twenty-seven, Merit became a sword-wielding vampire. Since then, she's become the protector of her House, watched Chicago nearly burn to the ground, and seen her Master fall and rise. Now she'll see her mettle—and her metal—tested like never before.
It started with two . . . Two rogues vanishing without a trace. Someone is targeting Chicago's vampires, and anyone could be next. With their house in peril, Merit and her Master, the centuries-old Ethan Sullivan, must race to stop the disappearances. But as they untangle a web of secret alliances and ancient evils, they realize their foe is more familiar, and more powerful, than they could have ever imagined.
My Thoughts
The book opens to Merit and Ethan acting like any other couple. It was nice to start reading and know that they were together and happy, even with all that is going on with Cadogan House. Merit finally puts her position as Social Chair to good use and is throwing a party for the house and Chicago's Rogue Vampires, so that they can get to know each other more and hopefully become friendlier. The party starts and Noah (the unofficial head of the Rogue's) informs them that two rogue vampires are missing. To show that Cadogan House is willing to help the Rogue Vampires in anyway Merit takes on the task of figuring out what happens.
I was happy that Merit and Mallory's relationship seems to be improving in this book. The last book seemed a little off since they almost refused to talk to each other. The mystery of the rogue vampire killings was well developed and kept me interested. The ongoing storyline with Merit and the Red Guard is a nice twist to the story.
It is full of unexpected twists and every emotion you can think of. I really enjoyed this book and am glad I read it.