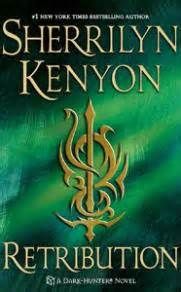 Retribution by Sherrilyn Kenyon
#19 in Dark Hunters Series
Rating-
Find this book on Goodreads
Book Blurb
Harm no human...
A hired gunslinger, William Jessup Brady lived his life with one foot in the grave. He believed that every life had a price. Until the day when he finally found a reason to live. In one single act of brutal betrayal, he lost everything, including his life. Brought back by a Greek goddess to be one of her Dark-Hunters, he gave his immortal soul for vengeance and swore he'd spend eternity protecting the humans he'd once considered prey.
Orphaned as a toddler, Abigail Yager was taken in by a family of vampires and raised on one belief- Dark-Hunters are the evil who prey on both their people and mankind, and they must all be destroyed. While protecting her adoptive race, she has spent her life eliminating the Dark-Hunters and training for the day when she meets the man who killed her family: Jess Brady.
A gun in the hand is worth two in the holster...
Jess has been charged with finding and terminating the creature who's assassinating Dark-Hunters. The last thing he expects to find is a human face behind the killings, but when that face bears a striking resemblance to the one who murdered him centuries ago, he knows something evil is going on. He also knows he's not the one who killed her parents. But Abigail refuses to believe the truth and is determined to see him dead once and for all.
Brought together by an angry god and chased by ancient enemies out to kill them both, they must find a way to overcome their mutual hatred or watch as one of the darkest of powers rises and kills both the races they've sworn to protect.
My Thoughts
This is a Paranormal Romance, and it is in a class of it's own (at least for me). I've never read anything like it. I enjoy Sherrilyn Kenyon. Her writing is smooth and complex, yet not hard to follow.
I honestly didn't remember Jess (Sundown) from any of the other books. I know he's been in some because all the characters have been introduced as secondary characters. He just wasn't memorable before. That being said- Jess was different than other Dark-Hunters. Most of them seem to think that brooding and such is their main job. That they've been wronged so they are entitled to it (at least in the beginning of their stories). Jess realized a long time ago that being bitter and holding that grudge just wasn't worth it. He is a fun guy, the jokes or comments he made were refreshing. I enjoyed it. Abigail in essence has been living a lie. And only realizes it after being confronted by Jess. She has to face that she was hurting the wrong people. I could go on and on about these two. They seemed like an unlikely pair. But I liked them both instantly.
There seemed to be a different change of pace for this story. It didn't come across as them hating each other in the beginning (like it does sometimes). It was more of a misconception on past events that let to them meeting and as that was resolved everything fell into place. Another storyline during Retribution was about Guardians who protected plaques and what happens when balance shifts. It was interesting and I'm looking forward to seeing the rest of it unfold.
The scene with Jess and Abigail in the Audi in the car wash... It was a good one, with a little bit of humor. Not going to say much more than that, don't want to give anything away if people haven't read yet. The various humorous digs or comebacks had me laughing out loud. Which is slightly unusual for a Dark-Hunters Novel (at least in this volume).
I love this series and look forward to reading the rest. I would recommend this series. Sherrilyn Kenyon has said that she writes each book so that it can be a stand alone novel. For me, reading them in order is like putting a puzzle together piece by piece. Each story is another piece of this amazing world that Sherrilyn Kenyon has created and I couldn't imagine reading them any other way.