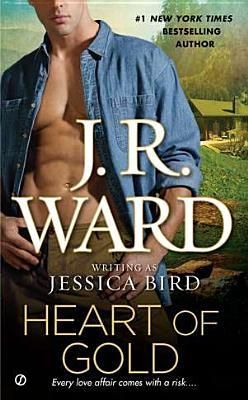 Heart of Gold by Jessica Bird aka J.R. Ward
Rating-

Find this book on Goodreads
Book Blurb
She has a chance to find something more precious than gold, if she's brave enough to trust her heart. . . . Her intense passion for unlocking the secrets of the past is what made Carter Wessex an archeologist. Now she's been given a chance to dig on Farrell Mountain where a doomed party of minutemen lost their lives—as well as the gold they were carrying during the Revolutionary War. Carter refuses to let the mountain's owner, Nick Farrell, rattle her, even though she's all too aware of his sexy yet sardonic presence. Her work on the mountain could be the most significant find of her career . . . if she can pull herself away from the smoldering attraction that is undeniably growing between them. Beneath the steely facade Nick Farrell wears like a well-cut suit, he is a man of hidden tenderness. From his first meeting with Carter, there's an immediate flare—hotter than he has ever experienced before. But no one is more surprised than Nick when his desire for her deepens into something enduring. Now Nick must find a way to convince Carter that the real treasure to be found on Farrell Mountain is a true and lasting love. . . .
My Thoughts
This is a Contemporary Romance novel, you don't find too many books that concentrate on Archaeology. Carter Wessex (am I the only one that finds Carter as a weird name for a girl?) is an archaeologist, interested in putting together a dig on land owned by Nick Farrel. Nick Farrel is a Corporate Raider, he cares for his nephew Cort. Nick have an instant dislike for each other. Nick doesn't like anyone going up on his mountain. Nick has a pretty rocky relationship with Cort, he seems to think he has to be a dictator in order to keep Cort out of trouble and keep Cort's diabetes under control.
I really enjoyed the parts about Carter's archaeology dig. I find it fascinating when I have a chance to read about jobs I'll never be able to do. The further I got in Heart of Gold, the more I disliked Nick. I understand that a good romance has to have some friction between the two, but he was just down right mean and nasty. There was an attempt at a change in attitude toward the end, but it was abrupt and a little unbelievable. Carter has issues with her father which contribute to her reluctance to be in a relationship, to me this is believable.
Like I said before, I liked the parts where it concentrated on the dig. The story behind the part where they were doing the dig was really cool to learn, whether it was real or not. On the other hand, I didn't like the scenes where Nick has decided that he can't let him and Carter get any closer so he starts being nasty and mean. For me it was over the top, and unnecessary. I get that it was almost like a defense mechanism, but just a little much. There was a couple of parts that had me giggling, but it isn't written solely to make you laugh.
I've always enjoyed books written by J.R. Ward, so I figured I would try some of her Jessica Bird books. I liked the writing style. The story had a nice flow to it. This book, as far as I know isn't part of a series. It seemed pretty stand-alone to me. While there were parts of this story that I didn't like, overall it was a nice read.